Holly, MI's Trusted Professionals for Inspecting & Fixing Well Pumps
---
Reliable Pump Repairs for Homes and Businesses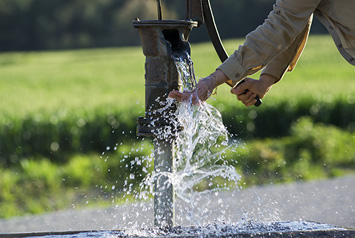 Regular maintenance is important for any complex piece of equipment, but it is particularly critical for wells. If your water source is sub-par, the impact extends far beyond a slow supply. Broken wells expose you and your home or business to diseases, harmful chemicals, mechanical issues and countless other negative consequences. It is crucial that you schedule well inspections and well repairs on a regular basis, and this starts with taking good care of your pump. Richman Well Drilling offers residential and commercial pump maintenance services throughout Oakland, Livingston and Genesee counties.
The Benefits of Proactive Pump Repairs
When fixing a broken pump, time is of the essence. The sooner you repair your pumping equipment, the easier it is to avoid:
Well Damage - A faulty pump puts strain on your well, damaging the water tanks and other equipment. The longer this goes on, the more repairs you will have to make and the greater the chance that you will need to replace the well entirely. If you fix the pump early, the total cost of repairs will be dramatically lower.
Electrical Overuse - While a broken pump will not necessarily fail to transport water, it will likely need more energy than a fully functional one requires. This will not only drive your electric bill up, but over time this has the potential to create significant environmental damage. The sooner you fix any noticeable pump problems, the less expensive the repair costs will be!
Water Contamination - Depending on the nature of the problem with your pump, your water could end up being exposed to diseases, debris and other sources of exterior contamination. This has the potential to seriously undermine the health of your family, your workers or anyone else who uses your building's water supply.
Richman Well Drilling, LLC has more than 25 years of experience repairing well water pumps. Regardless of the type of device you use, we have the training and equipment to restore it to full working order.
The Art and Importance of Watching for Pump Damage
As experienced and equipped as the Richman team is, our greatest resource is still our customers. The better you are at identifying the early signs of pump problems, the sooner you will be able to alert us to them. We encourage you to look out for:
Water Quality Concerns - If your water looks murky or takes on a foul smell, the pump may be the source of the problem. We recommend you contact us immediately and not drink the water until we have a chance to at least assess the water quality and/or make any necessary repairs.
Electric Bill Increases - Pay attention to your monthly electric bill. If it suddenly jumps up and you cannot identify any other reason, your pump may be consuming excess energy to compensate for equipment problems.
Pressure Issues - Even while consuming more electricity, a broken pump may not be able to deliver water at the same pressure level. If you experience persistent, unexplained pressure problems, you should have your well inspected.
For more information on pump repairs as well as new well drilling, water testing and other key services, contact Richman Well Drilling, LLC today!